Asah Terampil Astramatika XXIV
---
To train the ability and skill of students in the field of Mathematics and also to socialize mathematic and mathematic skill for students. Based on that, students at the Mathematic department at The Faculty of Teacher Training and Education (FKIP), Mulawarman University is a apart of students' association of Mathematic (Himaptika) conduct an event of Mathematic Olympic (Astramatika).
Astramatika XXIX is followed by 116 elementary schools, 71 Junior high schools, 74 secondary high schools and 22 vocational high schools in East Kalimantan and North Kalimantan Provinces. The participants will follow the stages of written test whether they are personal or group, the quict count and the skill in using props.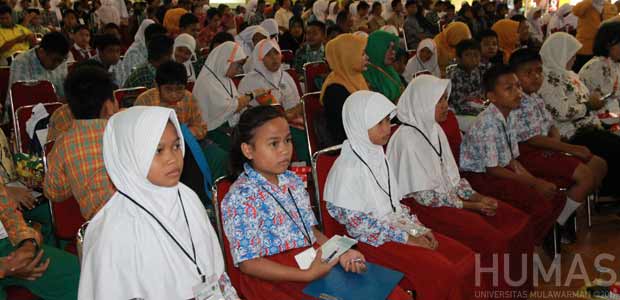 Students as the steering committee for the event also involved themselves actively to prepare the questions which are tested under the guidance lecturers."This year, we are also conducting mathematic workshop. At the implementation of the event, it is divided into 2 materials, such as the props and high order thinking skill and it is followed by 58 participants for the mathematic's teachers." said Yahya Fatahillah as the chairman of the steering committe of Astramatika XXIV at GOR 27 September Mulawarman University.
Astramatika for this year has the theme " Stimulate the Spirit of Creative Students and Sportive in Competition and Good Achievement in Mathematic" is officially started by The Governor of East Kalimantan, by special staff at The Natural Resources and Environment, Prof. Ir. Marlon Ivanhoe Aipassa, M. Agr. on Thursday, 16 February 2017. Furthermore, the representative of FKIP is the Dean, Prof. Dr. H.M Amir Masruhim, M.Kes and special staff of the Vice Rector of Students Affairs and Alumni, Aditya Irawan, S.Pi.,M.Si. (hms/frn)
---